4 minutes
Educators Credit Union's chosen name option is the latest component of its larger diversity effort.
The names each of us have matter a lot in how we present in the world. Some people get nicknames early in life that are used so much that their given names only crop up in formal, legal situations. Others have given names that are hard to say or spell. Some feel that their legal names don't represent who they are. This last one can be particularly relevant to members of the transgender community.
The legal name change process can be tedious and frustrating. It requires resources to pay court fees and get to bureaucratic institutions. It can also require a lot of emotional energy, especially if a person hasn't gone by their legal name in years.
Something Educators Credit Union has done to ease the way for members is to launch our RealMe by Educators CU card. This program lets our accountholders choose the first name that will be shown on select credit and debit cards. Launched on Nov. 17, 2021, RealMe is part of our credit union's overall vision for the inclusion of staff and members.
RealMe Card Program an Idea From Staff
Delivering on our credit union's motto, "achieving more together," our CEO, CUES member Linda Hoover, CCE, is always open to new ideas from staff. Because of her open-door policy, the AVP of the Member Response Center felt confident bringing her in September 2021 the idea that would become the RealMe card program just a few months later.
Our VP/payment systems, CUES member Lori Gorkowski, began investigating the possibilities right away. We also formed a 14-member employee resource group to lead the project. This ERG was comprised of staff members who are part of the LGBTQIA+ community and their allies, including me. A member of the ERG even took an allyship class at Lakeland University.
Of course, like with any new product idea, there were a lot of questions and some possible concerns. The big sticking point was future collectability and ensuring we would be within all legal requirements. Our corporate counsel reviewed our disclosures and applications, working with the card services team to move the idea forward.
Today a member can request a card with their chosen first name. When they do, the cards team creates a comment on the account and sets up a card name record, which is what our Epipsys/Symitar core system uses to process and create new cards. We have also created a separate card disclosure with FAQs to educate members on common questions that may come up while using their new card with their chosen name. As an unfortunate example, merchants that request legal identification may not accept the RealMe card. But we want our members to be prepared.
Once a member indicates a chosen name, our staff members use it in all interactions with them. We are exploring how we can use a member's chosen name beyond cards, such as on loan and account ownership documents, account statements, emails and checks.
I also relied on the ERG, now called Educating Pride, for key feedback in getting the word out about the program. The marketing team created a concept board for marketing materials and presented it to the committee to ensure we were representing the community properly.
Even before our launch, we sponsored and gave out flyers and swag at the early November LGBTQ Fall Fundraiser-Lake County. RealMe was received very well there.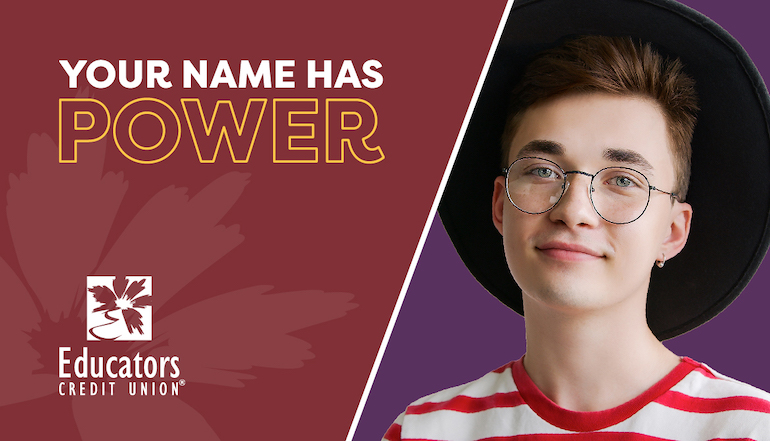 Before launching RealMe, we also created a training module within our intranet for our staff that included such topics as the meaning of LGBTQIA+ and the importance of pronouns to members of this community. We also gave our staff the ability to submit questions, comments, concerns or ideas to the Educating Pride committee via the intranet. The submissions are sent to the committee members to address with more content or information on our intranet.
Our full launch included publishing a webpage dedicated to RealMe. An announcement on our website and social media posts soon followed.
Both staff and members have been excited to hear about the program's launch. We created an email group so staff could reach out with any questions about it, and we received great feedback through that as well. So far we've had 20 requests for RealMe cards.
RealMe Part of Larger Diversity, Equity and Inclusion Initiative
Educators CU's mission is to passionately help people by educating and advising them to earn their loyalty. What better way to earn loyalty than to offer a product that allows an individual to be their authentic self?
At the same time we realize that diversity, equity and inclusion is a journey—that one card program isn't enough. Educators CU is pursuing an organizational DEI certification through CU Strategic Planning, Tacoma, Washington. This includes educational resources, a staff survey and an overall assessment of the credit union's DEI journey.
For about two years now, Educators CU has been celebrating culture and heritage as well. For example, we have done special events for Asian Pacific and Hispanic Heritage months and Juneteenth. The staff typically gets a shirt and does relevant team-building activities. We are in the process of creating a Black History Month shirt as this article is published.
Importantly, the Educating Pride committee will also serve as an umbrella group for planning and supporting other initiatives. We are proud of our RealMe program and committed to taking the key next steps that will allow us to better include and serve our members and staff—and earn their loyalty.
Krystal Povkovich is marketing manager for $3 billion Educators Credit Union, Mount Pleasant, Wisconsin.