4 minutes
2022 marks the second year the CU's Pueblo branch has been a tax prep assistance location.
The Pueblo Volunteer Income Tax Assistance Program provides free tax preparation and e-filing services to individuals and families with household incomes of $55,000 or less. Services are provided by IRS-trained volunteers who work with clients to identify tax credits, such as the Earned Income Tax Credit and Child Tax Credit that often go unclaimed, while helping them avoid the added cost of paid preparers and predatory lending to advance returns. The Pueblo VITA Program is partially funded by the City of Pueblo and administrated by United Way of Pueblo County.
United Way of Pueblo County serves as a trusted leader in the community by leveraging resources in support of collaborative solutions. In 2022, $1.5 billion/77,000-member Premier Members Credit Union, with corporate offices in Broomfield, Colorado, partnered with United Way Pueblo County for its second year as one of five Pueblo locations where the VITA services are offered. This service fits into Premier Members CU's Premier Gives pillar, which serves the principle of "people helping people." Premier Members CU hopes to extend this service to other branches in the state in future years, as decided by its leadership.
Premier Members CU's Pueblo branch is well-suited for this activity, allowing participants to be on site safely and comfortably. The CU and its partners at United Way take measures to protect everyone's health and observe COVID-related safety protocols. This year, while masks are optional, there will be partitions on each desk to promote good health as well as privacy.
The VITA program is a component of United Way of Pueblo County's financial empowerment and prosperity focus area. In many cases, these services provide a boost for individuals and families who need it most, providing the ability to pay other bills, put additional food on the table and help move the needle towards financial stability. VITA sites across the state are reporting that clients accessing their services had previously paid tax preparation fees of $200 to $400 for simple returns. This program helps tax filers retain those dollars.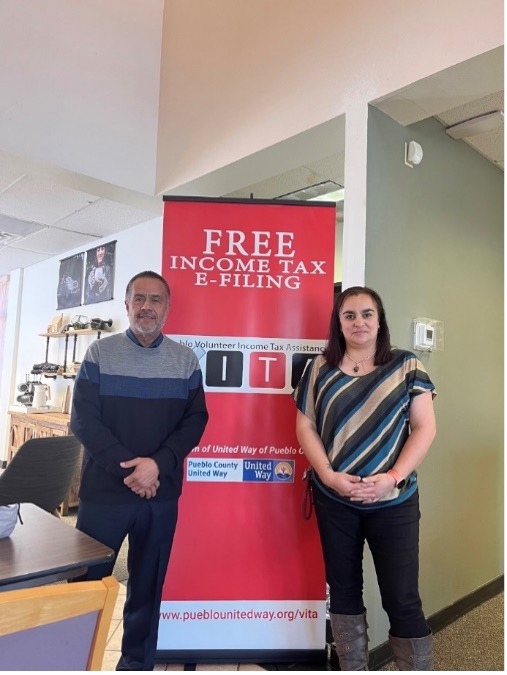 The CU's Premier Gives Program
Premier Members CU and its Premier Gives program provide the community with funds and employee community outreach hours to support initiatives for education, financial literacy and basic needs, beyond the VITA program.
Founded in 2012, Premier Gives has provided more than $462,000 annually in community support from employee and credit union sponsorships and donations. It also grants $35,000 annually in youth scholarships. In 2021, 570 community outreach hours were donated by staff to Premier Gives.
The credit union offers monthly Premier Gives projects to its workforce through a variety of outreach opportunities. The projects help strengthen the communities it serves by addressing basic needs such as clothing, shelter and hunger.
As part of the Premier Gives strategy, Premier Members CU leverages its relationship with Mile High United Way and provides its communities with a trifecta of employee outreach opportunities, corporate funding and employee giving. Through United Way, the credit union encourages employees to make financial contributions to nonprofits of their choice by providing a 50% corporate match. In 2021, Premier Members CU's United Way giving campaign raised more than $65,000.  
VITA Program Results and Next Steps  
In 2021 The Pueblo VITA Program processed 1,723 income tax forms (911 federal and 812 state) at various sites via drop-off format in 2021. More than $1,650,797 was brought back into the Pueblo community through refunds and an estimated $258,450 was realized in preparation savings to tax filers.
The 2022 tax season has seen a sharp rise in need with the Pueblo VITA Program administered by United Way of Pueblo County being the only free tax preparation program in the region. Traditionally Pueblo is home to three such programs.
The shift in available programming has caused the Pueblo VITA Program's phone lines to ring off the hook with appointments for the season, which runs through April 15.
"The demand for this vital service has been off the charts this year," stated Bianca Hicks, VP/strategic operations for United Way of Pueblo County. "We are fortunate to have incredible partnerships and dedicated volunteers that allow us to meet our clients where they are in five areas in the Pueblo community. We are limited only by available volunteers, which is something we hope to increase for the 2023 tax season."
Karen Bigelow leads corporate social responsibility for $1.5 billion Premier Members Credit Union, Broomfield, Colorado.