3 minutes
The CU's service through community organizations, loan programs and financial education is appreciated.
Redstone Federal Credit Union's first members were soldiers and government workers on Redstone Arsenal, a United States Army post and a census-designated place adjacent to Huntsville in Madison County, Alabama. Seven decades later, Redstone FCU continues to take seriously its service to veterans, active service personnel and federal government workers. It now has two branches on the Army post.
In fact, Redstone FCU's President/CEO, Joe Newberry, was recently named a John W. Dixon Award winner by the Association of the U.S. Army for outstanding contributions to national defense from industry. AUSA selected Newberry and Redstone because of their selfless service and dedication to the Army and its soldiers. A CUES member, Newberry also was named CUES Outstanding Chief Executive in 2018.
At present Redstone FCU continues to serve veterans, active service personnel and federal government employees through its support of non-profit organizations and through its own operations.
Supporting Veterans Through Local Non-Profits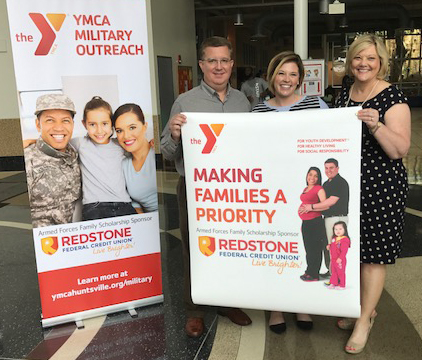 Some wonderful non-profits in northern Alabama and Middle Tennessee work to address many of the needs that our members who are veterans face. Redstone FCU has partnered with several of these organizations to sponsor programs, provide volunteers and support events that honor veterans. These include SemperFi Community Task Force of North Alabama, Clayton E. Moneymaker American Legion Post 237, North Alabama Veterans and Fraternal Organizations Coalition, Still Serving Veterans, Legacy 4 Korean War Veterans Foundation, MTSU Charlie and Hazel Daniels Veterans and Military Family Center, Veterans Memorial Park in Jackson County and CommuniServe in Murfreesboro/Rutherford County.
"Giving back to our community and supporting our community is very important to us at Redstone Federal Credit Union,'' says CUES member Mary Grace Evans, CSE, AVP/community relations. "Knowing that many of our members are veterans is another reason we are proud to support the organizations who in turn support our veterans."
These organizations are grateful for our efforts. "We truly appreciate the great working relationship we have with Redstone Federal Credit Union," says Debbie Joiner, chief development officer with Still Serving Veterans.
For nearly 10 years, Redstone FCU has been a sponsor of events associated with Legacy 4 Korean War Veterans Foundation, according to KC Bertling, the organization's co-founder and secretary. The mission of Legacy 4 Korean War Veterans Foundation is to honor Korea and World War II veterans and inspire America's future leaders.
Lending Options for Military Personnel and Veterans
Despite the Military Lending Act of 2007, many unscrupulous lenders continue to target military personnel.
Redstone FCU offers both stretch and payday alternative loans, which provide a small-dollar, short-term lending option at a much lower, fixed annual percentage rate than most traditional payday lenders, along with financial education resources.
We began offering our Stretch Loan in 2009. It became Stretch and Save (max loan amount of $2,000) in 2018 by adding a savings component. Loan recipients must transfer 20% from the loan amount to a higher-yield savings account. That money is available once the loan is paid off.
Our PAL or payday alternative loan (max loan amount $500) and PAL II programs launched in 2015. PAL II includes a savings requirement. Its max loan amount is $1,500. We offer these savings options to help our members, including veterans, establish an emergency fund. 
In 2015, we also started offering Veterans Administration loans. Plus, we have life advice on our website to assist personnel exiting the military and all service people and veterans with financial wellness in general.
"With roots that began on Redstone Arsenal, we are proud of our legacy of commitment and service to our military and civilian communities,'' Newberry says. "We will continue to look for tangible ways to serve those who served us.''  
Patricia Dedrick Lloyd enjoys sharing a good story. She handles public and media relations for $7.6 billion Redstone Federal Credit Union and is an award-winning journalist who is eager to connect an audience with the information they want and need. Patricia is also editor of aspire!, Redstone FCU's member magazine, which recently won the APEX® Award for Publication Excellence.