5 minutes
Employee recognition can directly improve business results. Here's how.
Employee recognition is essential for growing businesses, but it isn't taught like finance or IT. To develop company culture and inspire business success, leaders may run into a learning curve when figuring out how best to recognize employees. Thankfully, practical ideas and best practices can help guide any organization to the path of appreciation and growth.
Why Is Employee Recognition Important?
Employee recognition programs are important because they help improve employee retention and satisfaction. With a close-knit, engaged team, any organization can go further and achieve more. Plus, recognition doesn't have to be limited to just achieving business or sales goals. Consider the many benefits of employee recognition and rewards:
Positive company culture
Greater employee engagement and productivity
Stronger peer relationships at work
Improved member satisfaction as a result of engaged employees
Increased creativity and innovation
9 Ideas for Employee Recognition
People are endlessly creative, so there are countless ideas for recognition. When browsing ideas and tips, it's important to remember business goals and capabilities. What do you want to achieve, and how can you afford to do that? Start by considering the following.
1. Incentives. Rewards and incentives can help drive staff engagement and productivity. With an enticing prize in sight, team members push themselves further to achieve new goals. It's crucial to choose incentives that appeal to employee interests, hobbies and passions while being appropriate for the goal or milestone. Examples include added paid time off, travel vouchers, event tickets and gift cards.
2. Wellness programs. Healthy employees are happy employees. When staff members are healthier, they are generally more satisfied and productive. They are more likely to perform at a higher caliber and have improved attendance/lower absenteeism and presenteeism. Consider organizing wellness challenges or contests for employees like a walkathon or healthy eating initiative. Then, reward and celebrate the winners. Other corporate wellness ideas include stress management classes and gym membership stipends.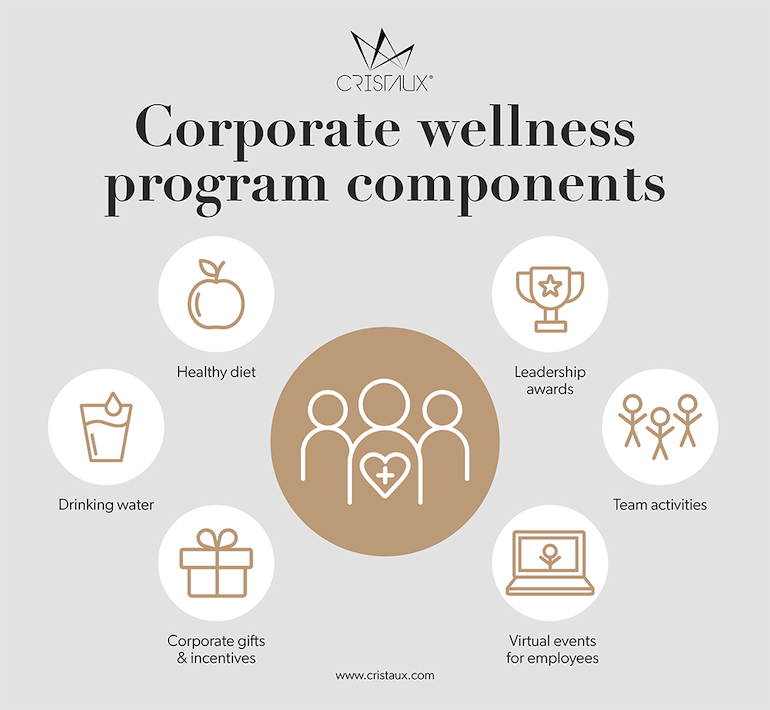 3. Service awards. Service awards help inspire staff loyalty and improve employee retention. These awards honor individual work anniversaries and milestones. For instance, a business can celebrate one, three, five, 10 and 15 years of service. To go along with the award, organization leaders can write thank-you notes and add personal gifts.
4. Fun events. Company activities and excursions help improve productivity by giving employees chances to recharge and avoid burnout. Also, these moments allow teammates to get to know each other better and build connections. Consider using these occasions to acknowledge and thank staff for everything they do. For instance, you can host a potluck and hand out employee appreciation gifts.
5. Professional development. Talent development makes an organization more competitive and improves staff engagement by advancing skills in areas of interest. Chances for professional development can be used as incentives for individuals or teams. You can reward those who go above and beyond in their work by letting them shadow executives, continue their formal education, attend conferences, and explore new technologies and related training.
6. Certificate program. Along those lines, certificate program helps a business uphold standards of excellence. By investing in staff learning, leaders also advance the company's competitiveness. Those who go above and beyond deserve to be recognized for their efforts. This sort of program can feature safety awards, certification plaques and more.
7. Peer-to-peer recognition. To build camaraderie and strengthen relationships, peer-to-peer recognition encourages positivity between coworkers. This tactic also helps improve teamwork and communication. For example, colleagues can vote on a people's choice award for whoever they think most deserves recognition. Additionally, these awards typically mean more to recipients because they're being honored by those they work closest to every day.
8. Compliments and shout-outs. Compliments and shout-outs help create a consistent company culture of positivity and appreciation by focusing on everyday efforts. Expressing gratitude is highly valuable for modern businesses. It feels good to give thanks and to be acknowledged. To compliment coworkers, consider if they're more comfortable with public or private attention. (Editor's note: CUES encourages peer-to-peer recognition and shout-outs by sharing "High Fives" submitted by CUESers to highlight the good work of their colleagues during staff meetings each month.)
9. Achievement awards. Achievement awards honor a wide range of accomplishments. When staff members see colleagues recognized with unique certificates or trophies, they may be inspired to work hard and to earn the same recognition. From sales and operations to marketing and human resources, there are many departments that can be acknowledged in creative, meaningful and visible ways.
Employee Recognition Best Practices
Consider the proceeding best practices to help mold your employee recognition initiatives.
Recognize desired behaviors. By choosing what you'd like to change or improve about your organization's culture or employee behaviors, you can create a focused plan. It's important for organizations to recognize the actions they should take so that they can build the businesses they want. With a narrowed plan of action, leaders can more easily decide on tactics and measures for success.
Experiment strategically. It's engaging to brainstorm different ideas for recognition, but it's essential to keep strategy in mind. Otherwise, you risk wasting time and resources. However, don't be afraid to try new and interesting ideas if they align with your vision and abilities.
Clearly communicate expectations. Organization is key to clarity. Simple and strong recognition plans are more easily understood and help increase employee buy-in and participation. Also, effective and concise award names help strengthen recognition programs by building excitement and ensuring understanding.
Be consistent. It's crucial to keep up the momentum when recognizing employees. By prioritizing consistency, organizations make recognition a routine. Staff will begin to anticipate opportunities for rewards and step up their game.
Measure progress. There is great strength in flexibility and adaptability. By evaluating the success of employee recognition programs, organizations can figure out what's going right and what needs to be changed. Consider looking into employee satisfaction surveys, revenue and member feedback or reviews.
With these basic guidelines for employee recognition, any team can begin to figure out what it looks and feels like for their credit union. With consistency and patience, any organization can grow its people, culture and results. Over time, sincere efforts will be rewarded.
Rachel Harmon is a content writer for Cristaux International, a Chicago-based design and manufacturing company specializing in awards, gifts and trophies. As part of a dedicated team, she works hard to develop strategic content. Her work elevates the Cristaux brand and utilizes the digital and human elements of marketing.