6 minutes
Creativity, accountability and trust are key ingredients for growing as a leader and building a successful team.
Listen—I'm a Michigander who happens to like the Yankees thanks to a fondness for Yogi-isms and a family connection to Mickey Mantle-era second baseman Bobby Richardson. It wasn't going to take much for Olympian and former Yankees pitcher Jim Abbott to win me over, even if he rose to fame a little before my time.
Still, you might ask what wisdom a pro athlete has to offer the credit union industry. Last month, Abbott closed out Directors Conference in Las Vegas with a keynote on the importance of creativity, accountability and trust. According to Abbott, these factors play major roles in the process of personal and career growth, especially when building and leading a team. While Abbott used his time on the field to illustrate their impact, the lessons he shared translate to any credit union board room or back office.
Creativity
Abbott, who was born without his right hand, learned about creativity and toughness early in life. "I knew what it was like to be different," he said. But he wanted to prove himself. That included playing sports, despite having what most would consider a distinct physical disadvantage.
Thankfully, Abbott was surrounded by "incredible people," teachers and friends in his hometown of Flint, Michigan. He recounted the story of Mr. Clarkson, his second-grade teacher, who taught his young student how to tie his shoes after spending evenings at home devising a method to do so with only one hand.
It was that kind of problem-solving attitude that allowed Abbott to succeed. He only played baseball because he was encouraged every step of the way by his family and coaches, he noted. So, he practiced and figured out a process—a way to switch his glove from his left hand to right arm and transfer the ball from glove to hand quickly and efficiently. Thanks to his strong throwing arm, he was later recruited to be backup quarterback by his high school's varsity football coach; they applied the same sort of creativity to learn how to control a snap, and Abbott played quarterback in the state semi-finals.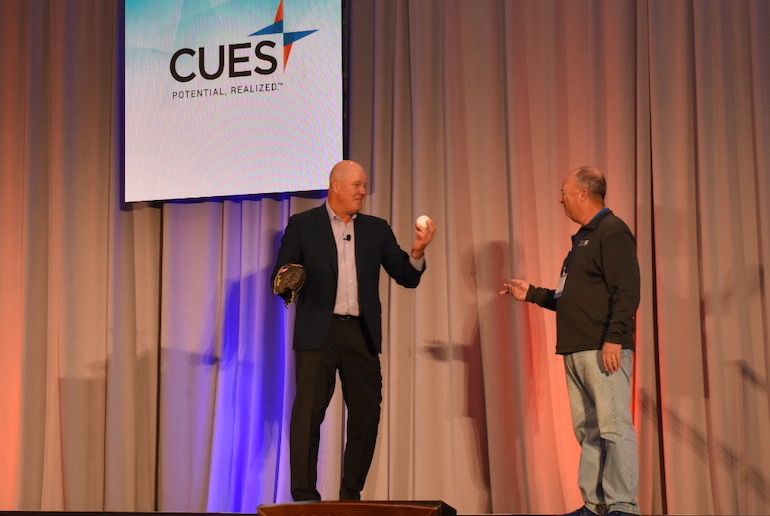 "The smallest of adjustments, the smallest details, opened up a whole world to me," he said.
Being a pitcher, Abbott acknowledges the risk of having to do things a little differently on the mound. Line drives are an occupational hazard, for example. Nevertheless, to succeed, you have to have "the willingness to take that chance, to go about things in a different way."
Accountability
Abbott learned the importance of accountability while playing amateur ball. After high school, he went on to play baseball for the University of Michigan and was then recruited to play for the American team in the 1988 Summer Olympics in Seoul, South Korea.
"It was the best team that I ever played for," Abbott recalled.
The team came together with a singular purpose and mission, he explained. It was made up entirely of college players and college coaches, and no one was being paid. They volunteered from all over the country just for the chance to play ball together on an international stage.
"I don't think any of us appreciated how special that was, how unique it was, to have that kind of buy in," Abbott said. Each player and coach chose to be accountable for the role that they would play on that team.
Baseball was a demonstration sport that year, but that didn't lessen the pressure. After the team made it through the semi-finals, Abbott recalled a moment in the locker room: The coach took a brand-new baseball and put it in his hand and told him he'd be pitching the final game. His fellow pitchers slept soundly that night while Abbott's eyes were wide open.
His coach made the right call; they won the unofficial gold medal.
Abbott learned a different kind of accountability once he was recruited to play professionally.
"My most important moments in baseball didn't always happen on those beautiful fields, but in [the] dark and dingy corridors" of the stadiums, he said.
Abbott thought that if he made it to the major leagues, he would be recognized not just for being different, for being "the one-handed pitcher." But as his reputation grew, families started to come to games with children that also had challenges. Some were missing a hand or missing an arm. "I didn't know there were as many people out there that looked like me," he noted.
At first, he didn't always want to go meet the fans and be reminded that he was different. But then saw the look in the kids' eyes. He played catch with them. "As we said our goodbyes, as they went home, as we went back up to the field, I never took the responsibility of being a big leaguer [lightly] again.
"Those kids may not have even loved baseball, but they loved something, and they were never going to let their circumstances be an excuse. Accountability is holding ourselves responsible for what we have in talent, in opportunity—what's right in front of us."
Trust
It takes trust between players and coaches to be successful in any team sport, much like it does in the workplace. Coaches, managers and directors need to earn the trust of their team to get good results, and that starts with having trust in those team members' abilities even in the face of setbacks.
Abbott recalled a time when he was pitching poorly in an away game against the Cleveland Indians. He ended up being taken out of the game.
"I took losing very hard," he said. "I didn't handle it very well—it was corrosive." He ended up leaving the stadium on his own to go for a run while the game played out.
But back at Yankee Stadium, his coach put him in the next game anyway, despite Abbott's previous frustration and self-doubt. The coach trusted he could do it—Abbott just needed to have the same trust in himself.
Fast-forward to Abbott's early retirement years, before he made the leap into public speaking. He got to test the waters at his daughter's preschool career day.
Most of the kids weren't paying attention to his presentation, he recounted. But toward the end, his young daughter Ella spoke up and asked, "Dad, do you like your little hand?" ("Where did that come from?" he recalled wondering. "We'd never called it my 'little hand.'") After a moment of thought, Abbott replied: "You know what, honey? I do like my little hand. … It's taken me to places I never would have gone without it.
"You can do things your own way and do them just as well as anybody else. … Nothing can stop you. That's what my little hand has taught me, and that's why I like it."
Maybe your organization has a particular challenge or limited resources, but with strong leadership and creativity, you can still be successful.
"If you make the most of what you've been given, nothing can stop you," Abbott concluded.
Danielle Dyer is an editor for CUES.