4 minutes
Take a moment to intentionally let go of bad habits, challenges and disappointments and direct your energy toward positive progress.
Happy New Year!
I love the beginning of a fresh, new year.
On New Year's Eve 2021, I started a new ritual for letting go of what didn't serve me that year so I could start the new year feeling renewed and optimistic. This year, I decided to share this practice with my family while we were on vacation in Virginia last week.
At New Year's Eve dinner, I handed out pieces of paper and asked my husband and three kids to each write down anything they wanted to release—challenges, failures, disappointments, stresses—anything that didn't serve them that they wanted to let go of before the new year. My son, Luca, who is nine, started to write down his sisters' names on a piece of paper, so we had to create a rule—you can't release a person. I told him he could reframe it as releasing "fighting with his sisters."
I asked each of my family members to share an example of what they wrote:
My husband, Rino: the desire for comfort over discipline
Olivia (age 11): frustration
Luca (age 9): health problems
Clara (age 8): being mean
Here are a few examples of what I wrote:
Anxiety
Fear
Procrastination on editing my book
Busyness
Self-doubt
Saying "I'm so busy"
Family drama
Being impatient with my kids
We then took our pieces of paper and put them into the fire, signaling that we are letting go of what didn't serve us in 2022 so we can have an awesome 2023.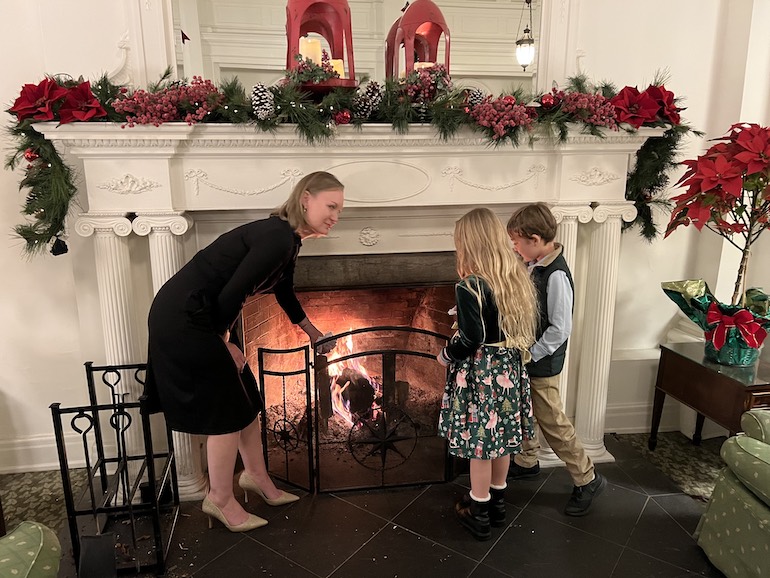 Here's something interesting: The first time I did this ritual was on December 31, 2021. And last year, 2022, was one of the best years I've had in almost all areas of my life. The act of physically writing each thing down and watching it burn away was like turning the page to a new year of amazing possibilities and a fresh start.
For the past two years, I have done this practice on New Year's Eve; however, you can do it anytime in January, or really any time during the year when you want to start fresh. It could be the first of the month, your birthday or the beginning of the week.
This is also a great time to set personal and professional intentions for your year. For example, my personal intention for this year is "ease." I can often feel hurried and stressed, and last year I consciously worked on breaking the habit of feeling stressed and overwhelmed. I stopped telling myself things like, "I'm so stressed" and "I have so much to do." Instead, I created two mantras that I repeat to myself when overwhelm kicks in: "One day at a time" and "I have plenty of time to get this done." The stress I often feel is created in my mind about what could happen and most often is not reality. This year, my intention is to be more at ease during my day and interactions and to not fuel feelings of stress and anxiety.
One of my executive clients set an intention of appreciation—to demonstrate appreciation with colleagues and her family on a regular basis. Having an intention brings focus to what you want to create and cultivate more of this year.
The releasing exercise and setting intentions doesn't mean you will have a perfect year. It doesn't mean you will be perfect. (I've released "Being impatient with my kids" both years, and let's just say I'm a work in progress.) These rituals are about progress, not perfection, and working toward getting better every year.
Releasing beliefs, actions, habits or feelings that aren't serving you and instead directing that energy toward being more purposeful in your interactions and how you navigate your daily life can give you a powerful sense of direction and focus for a more positive, fulfilling year.
Laurie Maddalena, MBA, CSP, CPCC, is a certified executive coach, leadership consultant and founder of CUES Supplier member Envision Excellence LLC in the Washington, D.C., area. Her mission is to create exceptional cultures by teaching leaders how to be exceptional. Maddalena facilitates management and executive training programs and team-building sessions and speaks at leadership events. Prior to starting her business, she was an HR executive at a $450 million credit union. Contact her at 240.605.7940 or lmaddalena@envisionexcellence.net.