2 minutes
Guide details nine steps for creating and maintaining deferred compensation plans to suit your overall executive compensation and succession strategies
According to the 2021 update of "Non-Qualified Executive Benefits: A Guide for Credit Union Leadership," the growth of split-dollar life insurance arrangements has outpaced that of other standard components of supplemental executive benefits packages. And that upward trend is particularly sharp among non-CEO executives.
The 32-page guide, originally published in 2017 by CUNA Mutual Group in collaboration with CUES, explains why and how to use deferred compensation programs to recruit, reward and retain excellent credit union leaders.
The guide uses data from the 2020 CUES Credit Union Executive Compensation Survey to show trends in supplemental executive benefits product usage. The 2020 survey shows that 457(b) and 457(f) continue to be the most used deferred compensation tool for executives overall. 
One reason is that 457 plans have been available to credit unions since the late 1980s, whereas split-dollar life insurance were not available to credit unions until about 2005. 
For credit union CEOs, 457 plan usage remained relatively steady, at 45.3% for 457(b) and 38.5% for 457(f) in the 2020 survey. Use of these plans appears to have plateaued in recent years. However, the results show a clear increase from the 2017 to the 2020 survey in the percentage of split-dollar arrangements offered to CEOs—and to most of the other executive categories measured.
Split-dollar insurance was offered to CEOs by 35.3% of surveyed credit unions—an increase of more than 37% from the 2017 survey. The chart below shows the executive categories that achieved the highest increase in split-dollar plans over the 2017 survey.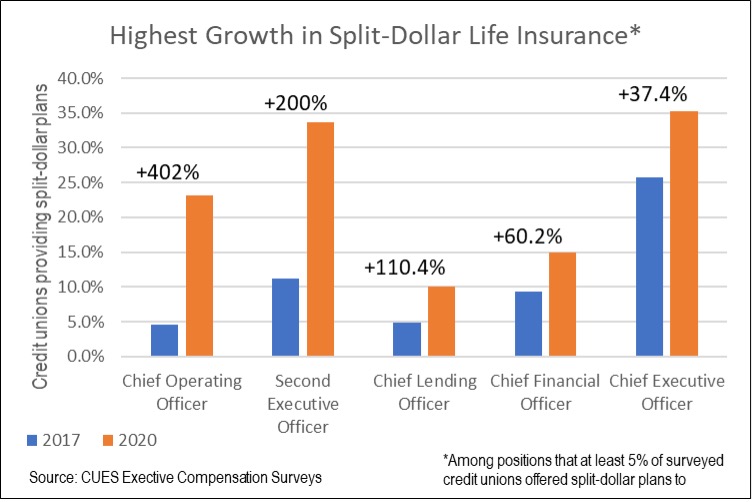 In addition to an updated trends report, the guide specifies nine steps to creating and maintaining deferred compensation plans to suit your overall executive compensation and succession strategies. It features common scenarios of how credit unions deploy deferred compensation plans, gleaned from thousands of these programs managed by CUNA Mutual Group over many years.
Andy Roquet is an executive benefits specialist for CUESolutions Platinum provider CUNA Mutual Group, Madison, Wisconsin.
Proprietary insurance is underwritten by CMFG Life Insurance Company. Proprietary and brokered insurance is sold by CUNA Mutual Insurance Agency, Inc., a wholly owned subsidiary. This insurance is not a deposit and is not federally insured or guaranteed by your credit union. For more information, contact your Executive Benefits Specialist at 800.356.2644. Representatives are registered through, and securities are sold through, CUNA Brokerage Services, Inc. (CBSI), member FINRA/SIPC, 2000 Heritage Way, Waverly IA 50677, toll-free 866.512.6109. Insurance and annuity products are sold through CMFG Life Insurance Company. Non-deposit investment products are not federally insured, involve investment risk, may lose value and are not obligations of or guaranteed by the credit union. EBSD-3499215.1-0321-0423 © CUNA Mutual Group, 2021 All Rights Reserved.