4 minutes
Taking a somewhat meandering career route has worked well for Mollie Bell, who values the challenges and diverse experiences her chosen path has provided.
Some career paths take a straight-shot approach, getting from Point A to Point B with nary a detour in the process. But in other cases, the trajectory is less tidy, punctuated by advancements and sideways moves, even hitting reverse. This latter course is more to CUES member Mollie Bell's liking, who describes her journey to chief development officer at $6 billion Ent Credit Union as a "winding, exploratory" undertaking.
"For me, a career path is less about moving backwards, laterally or forwards; it's about finding the next challenge or growth opportunity that makes sense for you," Bell explains. "It's about believing in yourself enough to take that chance."
Bell Joined Ent CU in December 2018, immediately stepping into her current position. Headquartered in Colorado Springs, Ent CU has more than 35 service centers along the Front Range. The community-based credit union has more than 370,000 members and approximately 1,000 full- and part-time employees. Growth has been steady, picking up momentum over the last several years.
Bell is tasked with leading education (member and staff learning and development) and people (including HR and culture). She also co-leads Ent CU's community development and philanthropy efforts. As varied as her path has been, Bell says her previous experiences have led her to where she is today.
It's clear why she feels this way. Bell has been a business owner and a public school teacher, spending three years in high school and two in middle school classrooms. During her tenure teaching middle school, Bell considered getting her master's and going into school administration. Instead, she took the LSAT to see if she could get into law school. (Her undergrad degree was in business with a pre-law focus.) She did, then completed her JD (Doctor of Jurisprudence) at the University of Texas in 2001.
After law school, Bell joined Accenture as a consultant and manager in the government market unit (as it was called at the time), working on projects in Austin, Texas; Santa Fe, New Mexico; Atlanta; and Denver. About six years later, in 2007, she landed at CUESolutions provider CUNA Mutual Group, steering the enterprise management office in Madison, Wisconsin. A stint leading the engagement function for the Filene Research Institute, also located in Madison, followed in 2013. This gave her the opportunity to build relationships with credit union leaders and to work more closely with credit unions. In 2015, Bell moved to CUNA (the Credit Union National Association) in Madison, managing the engagement function, remaining there until 2018.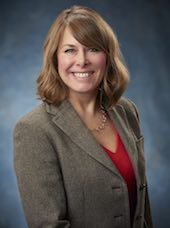 Chief Development Officer
You be you, but be smart. Lead yourself with empathy and understanding, which includes being aware of those around you and how your actions can affect them.
"While with CUNA Mutual, I attended the Cornell year of CUES' CEO Institute," Bell says. "I was very impressed with the school, and it certainly solidified my desire to work more closely with credit unions." CEO Institute consists of three one-week sessions held over three years at the nation's top business schools. Year two focuses on organizational effectiveness and takes place at Cornell University's Samuel Curtis Johnson Graduate School of Management.
Although Bell says there isn't much she would change about the route she's taken, there have been some difficult moments. One such "learning experience" happened during her last year with Accenture.
"I said yes to a big role with more responsibility than I had had to that point," she recalls. "Partway through the assignment, I recognized I wasn't delivering my best. It was a tough assignment with lots of overtime and travel. My dad was not doing well from a health perspective, and I was simply exhausted."
Realizing she needed to step away, Bell took a leave of absence, moving closer to her parents and taking a contractor position with CUNA Mutual. That decision to regroup aligns with the best career advice she's received, counsel she passes along to others: to be authentic.
"Authenticity doesn't come without understanding emotional intelligence," Bell says. "In other words, you be you, but be smart. Lead yourself with empathy and understanding, which includes being aware of those around you and how your actions can affect them."
For women just starting their credit union careers or who are more in the middle and looking for advancement, Bell advises creating a circle of "truth-tellers," people who can serve as trusted advisors and supporters. Also, find a sponsor or mentor—the best ones evolve "organically," she says—who will promote you to others.
"Make sure you pay it forward, too," Bell adds. "Open the door for others. Stand up for what you believe in. And, if you're feeling off, look in the mirror and ask yourself what you've contributed." cues icon
Pamela Mills-Senn is a writer based in Long Beach, California.