4 minutes
After Aisha Scott found her career passion, it was full steam ahead, no matter the obstacles.
Some people uncover their passion early in life, a discovery that directs their energies towards a particular career or objective. For others, this knowledge comes a little later, perhaps by accident or through a reevaluation of where their happiness lies. The latter was the case for CUES member Aisha Scott, manager/learning and organizational development for MECU Credit Union, Baltimore, MD.
With 349 full- and part-time employees, $1.2 billion in assets and more than 110,000 members, MECU has been on the march, adding 11,000 new members in 2019 and a 10th full-service branch that same year. It also realized a 45% increase in digital adaption and mobile visitors.
Scott joined MECU in May 2017 as an organizational effectiveness consultant—her first experience with a credit union—transitioning into her current role in May 2019. She develops and delivers all kinds of classroom training for new and existing employees, including orientation/onboarding, technical training, product knowledge, soft skills, company culture, and policy and procedure. She also consults with and provides guidance for the call center training program, as well as devising and promoting (in conjunction with HR) a variety of employee engagement activities, among other responsibilities.
Roughly 20 years ago, while still attending college, Scott got her first taste of training, starting out as a part-time teller for a commercial bank but worked her way up to being a regional training instructor/performance improvement coach. Then, her career shifted into managing and underwriting multifamily apartment properties. After 10 years working in a position that required a fair amount of travel (which she loved), Scott realized she was happiest being in corporate training/learning and development. Because the commercial real estate company didn't have a formal training department, there wasn't the opportunity to embrace this passion with them. Consequently, she began plotting her exit from that organization.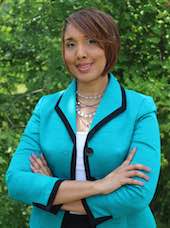 Manager/Learning and Organizational Development
MECU Credit Union (Baltimore)
The easiest way I've come to answer this question of how, is to be a BOSS. Be Outstanding in Something Simple. Find the one thing that gives you joy—and that you do well—and build your craft, your profession and your career around it.
Some work was required. Scott had taken a break from obtaining her bachelor's degree and soon realized that not having this was keeping her from getting where she wanted to go.
"I decided to go back and complete the three courses I needed to graduate," she recalls. "The bump in the road came when I was informed that because it was over 10 years since I had left school, I now had to lose 30 credits to transfer to a new school and complete 10 classes in order to graduate. So in the midst of being a single parent, working full time and traveling to the West Coast each month for work, I completed all 10 courses between September 2015 and December 2016."
Scott graduated with a bachelor's degree in management and continued to invest in herself by becoming a certified Myers-Briggs practitioner. Soon she began applying for learning and development positions, landing at MECU.
Now working toward a master's degree in industrial/organizational psychology, Scott says her degree and the several certifications she holds means she no longer has to wait for opportunities to be extended. Instead, her education has enabled her to go after the positions she actually wants, giving her greater control.
What advice does she have for women just beginning their careers? Not surprisingly, it's to find and follow their passion, although Scott admits this can be challenging for young professionals to figure out.
"The easiest way I've come to answer this question of how, is to be a BOSS," Scott says. "Be Outstanding in Something Simple. Find the one thing that gives you joy—and that you do well—and build your craft, your profession and your career around it. When you find that job or position that makes you happy to get up and go to work every day, that is your passion. Then, gather as much knowledge around it as you can—there is power in knowledge and being an expert."
For "seasoned" professionals looking to move into a different position or industry, Scott suggests taking time for self-reflection, asking what it is they really want to do. The next question to ponder should be how much effort and work they're willing to invest in themselves to advance their skills and subsequently their careers—advice that holds true regardless of where someone is in his or her trajectory.
"I have learned this," says Scott. "When you can clearly see your path directly in front of you, the only next step is for you to determine how fast—or how slowly—you drive towards your goals." cues icon
Pamela Mills-Senn is a writer based in Long Beach, California.