5 minutes
For Grace Thompson, VP/learning & staff development for LGFCU, continuous education and skills enhancement are twin passions propelling her career—then, now and in the future.
Ask CUES member Grace Thompson, SPHR/SHRM-SCP, LDSS, CTC, about her best career decision and she'll tell you it's been to always further her education.
"I refused to accept a position with an employer who did not offer tuition reimbursement as a benefit to, and encouragement for, staff development," says Thompson, VP/learning and staff development at $2 billion Local Government Federal Credit Union, Raleigh, North Carolina.
"I've continued my learning through certifications and joining professional associations," she continues. "Certifications are a great way to stay abreast of changes within your field because you must complete continuing education credits to maintain your certification." Thompson also holds the Senior Professional in Human Resources (SPHR/SHRM-SCP) designation and is a certified Leadership Development & Succession Strategist.
Thompson joined the credit union in 2013 and moved into her current position in 2015. She describes her role as a "hybrid," where half of her responsibilities involve coaching, falling as they do under learning and development, while HR makes up the other half.
LGFCU was Thompson's first exposure to the credit union industry. Prior to her arrival, she worked in an array of industries including chemical, music, television, trade associations and financial. Her first two corporate gigs were secretarial: providing support for sales reps at a software company and then later, reporting to a VP/marketing and sales in the financial industry. Unhappy with sales and marketing, Thompson applied for a job as a personnel assistant. She landed it, reporting to a vice president whose job it was to recruit for executive positions.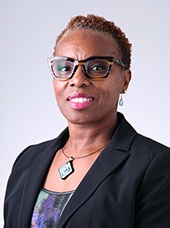 VP/learning and staff development
[Your professional reputation] will always precede and follow you wherever you go. This was great advice both personally and professionally and it aligned with my top three core values: honesty, integrity and professionalism. It has guided all my interactions with all levels of staff, internally and externally.
"He did the recruiting and I did the onboarding," she recalls. "After two years, I wanted to learn the other disciplines of HR with the goal of becoming an HR generalist. However, because that organization was so large—over 60,000 employees worldwide—HR was very compartmentalized, and I was not able to gain exposure to the other areas."
She left, taking a position with an international chemical company, reporting to the director of benefits. At the same time, she enrolled in college, taking a full course load at night to earn her undergraduate degree in business, management and finance.
"Working full time and going to school full time was not an easy feat—talk about time management," Thompson says. "Homework was done while riding the subway. On Sundays, I would iron six outfits for the week."
When the chemical company closed, she moved on to another benefits position at a record company. Three years later, wanting to learn the recruiting side of the house, she transferred internally to the recruiting team. While there, she enrolled in graduate school, earning her degree in human resource management. But shortly after completing the graduate program, she was laid off.
Undeterred, Thompson landed a recruiting position at a television station, filling corporate and production positions. That sufficed for several years until she decided she wanted to find a role where she could function as a HR generalist. She then joined a small, privately owned engineering firm with 40 employees where she was the sole HR practitioner. After a year, Thompson realized she didn't enjoy working for companies quite that small and took a position as an employee relations manager at a trade association.
At that point, Thompson enrolled in a 10-month coach training program at NC State University, seeking new skills that would complement her employee relations experience. In 2013, she joined LGFCU as an HR manager. Initially, there was a human resources team of just five at the credit union. Now, there are seven in HR and four in the learning and development area.
In addition to her degrees and certifications, Thompson is also qualified to administer emotional intelligence, Myers-Briggs and 360-degree assessments. In 2017, she became a mentor for the Carolinas Credit Union League's CUaware Mentor Program. Two years later, Thompson participated in the program as a mentor and a mentee, feeling that as a credit union VP, she wanted the chance to learn from someone senior to her.
For most of Thompson's career, mentors were hard to come by. This is why she suggests younger women just starting out find a mentor at each stage of their careers. For those women who are in the middle stages of their professional journey, she advises taking inventory of their current skills and what is being sought in the market by checking out the positions posted on job boards. Utilizing a coach is also something she recommends—as is having a conversation with managers or supervisors about long-term goals.
As for those who feel their careers are stagnating but who are not positioned, for whatever reason, to change jobs, she says shifting your focus externally can prove energizing. For example, Thompson has served on the board for the Triangle SHRM chapter and the Raleigh chapter of the International Coach Federation. She currently serves as secretary for the Southern Regional Chapter of the African American Credit Union Coalition. Acting as a mentor to someone junior or becoming a mentee can also light a spark.
Thompson also stresses the importance of protecting your professional reputation—advice she counts as the best she's received.
"It will always precede and follow you wherever you go," Thompson says. "This was great advice both personally and professionally and it aligned with my top three core values: honesty, integrity and professionalism. It has guided all my interactions with all levels of staff, internally and externally." cues icon
Pamela Mills-Senn is a writer based in Long Beach, California.