5 minutes
Make your virtual 'location' as welcoming as your physical one.
Sponsored by Allied Solutions
Having a web presence isn't what it used to be. The days of a landing page with a few photos, some elevator music, your contact information and a customized dot com are long behind us. As technology continues to advance, so do the expectations of the typical consumer. To stay competitive today, organizations need to think about audiences, algorithms, content, navigation, data… the list of ones and zeros goes on. Credit unions, especially, walk a fine line when it comes to producing an effective website. Between catering to the lifelong member who still wants human interaction to having enough content and digital offerings to attract a new generation that doesn't, deciding where to start can be tricky.
This blog highlights recommended areas of focus when creating or overhauling your credit union's website. After all, you have likely created a professional, welcoming physical location; let's do the same with your virtual.
1. Professional Web Design
When you are relying on your online presence to make your organization's first impression, you will want a professionally designed, member-centric website that effectively exhibits your products and presents your institution in the proper light. Thanks to consumer website builders, such as WordPress or Wix, anyone can build a website. However, hiring a professional developer, or better yet, one that specializes in creating websites for financial institutions can make your organization stand out, especially in this competitive market.   
2. Contact
Now that your virtual visitor has landed on a clean and professionally designed website, make sure they can find the answers to their questions quickly and easily.  Your contact information, locations, and social media profiles should be prominent for guests to access. Additional features such as having a chatbot option can not only help visitors connect easily with fewer frustrations but help your institution alleviate the burden on your staff, increase debt collection by 200%, increase average revenue by member by 30% and drop call abandonment rates down to zero.  
Check out our webinar on how artificial intelligence is a game-changer in the call center world. The end result? To help your members or prospective members have the best experience possible when interacting with your organization online.
3. Use Video
This might sound scary…and expensive, but various resources make creating original video content easy and cost-effective. Video helps your organization engage and educate your visitors by using sight, sound, and emotion to captivate your audience. People tend to watch a lot of video (preferably video that is short and compelling), and it can serve multiple functions. Consider creating a video content library on your website or add snippets to social media that highlight new products, promotions, or your employee of the month.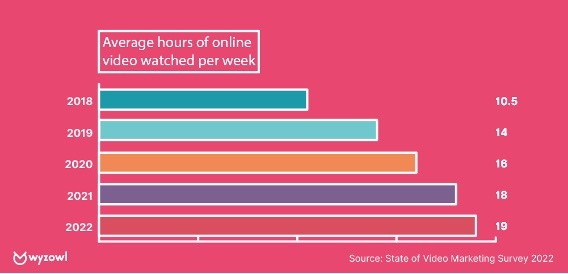 As an added bonus, video can also improve your online search algorithm. Why is your algorithm important? Unless you are using paid advertising to show up at the beginning of a search, improving your algorithm is the next best way to be seen in an online search—and you don't have to be a Hollywood director to do it.
Watch this quick video on how video can improve your Google ranking.
4. Original Copy
Coming in behind video is original copy or written content. The more original, non-duplicated copy you can create, the better the algorithm. Having a highly diverse bank of words helps the search engine sort your content from others. The more diverse you are, the higher up the search ladder your organization goes. FAQs and blogs are an effective way to keep your content fresh and engage regularly with your members, but it should be consistent and relevant to your audience.
Here are some tips for writing your blog:
Pick a topic and give it a strong headline
Know your audience
Be clear and concise
Use images and illustrations
Use bullet points
Offer a solution
Smaller institutions should aim to blog at least once a week. Larger institutions, or ones with a dedicated blogger, can shoot to post two to three times a week. If the task of posting blogs consistently is not achievable, consider hiring a freelancer to help with the load.
5. Call to Action
Make them want more. Here's your chance to provide your visitor with something they need and/or want while also growing your leads. Your website should be informative, user-friendly and benefit your institution as well. Providing desirable, gated content can give your visitors what they seek, but serve as a means for you to follow up with additional products and offers.   Creative ways to get your visitors to opt-in include having downloadable content, email newsletters, text messaging, promotions and contests.
6. Own Your Google My Business 
Google My Business benefits both your physical and digital presence. GMB requires businesses have a physical location, which can help set you apart from online-only institutions in a Google search. If you are unfamiliar with GMB, stop right now and go claim your business and set up a free business profile.  If you already have Google My Business, this is the time to review it, make any necessary changes or additions and put a reminder on your calendar to assess it again in three months.
Benefits of Google My Business include:
Being found easily when a Google search is conducted
Ability to list a physical address (including map), contact information, photos/logos and business hours
See and respond to reviews
Link directly to your website and social media profiles
If you need some guidance on how to set up your Google My Business profile, online resources can guide you through the process.
Of course, there are more than six ways to make a great website. Just remember to keep your website updated, the content fresh, and the activity consistent, and your virtual space will be just as welcoming as your physical space.
Traci Mottweiler is director of growth strategies at Allied Solutions, a CUES Supplier member. Mottweiler has nearly three decades of experience providing lending and deposit solutions to financial institutions. In her role at Allied Solutions, she is responsible for identifying, developing and maintaining strong underwriter and provider relationships across a variety of lending, deposit and emerging products. She manages a robust portfolio of products and oversees marketing and educational efforts for products and partners.
Allied Solutions is one of the largest providers of insurance, lending, risk management, and data-driven solutions to financial institutions in the US. Allied Solutions uses technology-based solutions customized to meet the needs of 4,000 banks and credit unions, along with a portfolio of innovative products and services from a wide variety of providers. Allied Solutions is headquartered in Carmel, Indiana and maintains several offices strategically located across the country. Allied Solutions is a wholly owned and independently operated subsidiary of Securian Financial Group.