5 minutes
5 things credit unions need to include on video content for a better rank in search results
Video marketing strategy has become essential for businesses, regardless of industry or size—including the financial services industry. Having video on your website, social media channels and emails helps to put a face and personality behind your credit union's brand.
Videos can make it much easier to reach out to more people that are interested in banking at your credit union and educate them about the process. Also, it's one of the most effective tools for sharing information and entertaining content with your members.
The allure of video marketing is quite simple: It combines both audio and visual elements, which helps viewers understand the messaging better. According to a Forbes article, 95% of viewers retain and remember information when they absorb it through videos, as compared to 10% retention when reading plain text.
But it is imperative that your videos be optimized for search engines. Your credit union's website or social media pages will be 53% times more likely to show up on the first page of Google SERPs (search engine results pages) when you pay attention to video SEO.
Here are some elements you should include on your videos, whether on your own website or your Vimeo/YouTube channel, to make sure they get ranked highly in search results.
1. Use Keyword-Based Title Tags
Whether you're sharing member testimonial videos, explainer videos or tutorial videos, title tags are the most important element of your video. These crucial few words will help people find your videos when they search for content—so make sure they're optimized with keywords, specifically those that show up in your metadata.
For instance, instead of titling your video with "My video about credit unions," which is generic and unappealing, you can include relevant keywords while still keeping the title concise and compelling for viewers: "How Credit Unions Stay Relevant in Today's Changing Financial Landscape."
Besides aiming for a better SERPs rank, you also need to remember that your keyword-based video titles should help viewers understand what they're about to see.
2. Include Click-Worthy Title Tags Along in Your Video File Name
This is an often-overlooked aspect of SEO that can significantly boost your CTR (click-through rate) from search result pages. Search engines such as Google will crawl your website to find all text content for indexing keywords and phrases related to the topic.
Therefore, it's important to include the title tag in your video filename so that search engines can easily find them and index them. Replace that "cu_video_ad_v3_008FINAL.mov" filename with your desired keywords.
A word of caution: Remember not to stuff keywords in your title tags, as this is considered spammy SEO by Google and can hurt your ranking. Instead of over-optimizing for a keyword or two, use long-tail keywords—keywords or phrases that are more specific, thus often longer—that are less competitive.
While it's important to have compelling title tags, using abbreviations can also be beneficial (but these should not be abused by over-stuffing either). You should also use the same title tag keywords for all your videos on a given topic, because Google values consistency in ranking.
3. Create Clickable Thumbnails
Along with the title, the thumbnail is the first thing that the viewer's eyes are drawn to when they find your video. You can also say that the thumbnail determines whether or not the viewer will click to watch your video.
According to the YouTube Creator Academy, 90% of the best-performing videos on YouTube have custom thumbnails. So, it's crucial to use a thumbnail that will entice the viewer to click on your video.
Let's say you host your videos on YouTube or Vimeo. Instead of using the auto-generated thumbnails that the platform provides, it's always better to upload a custom thumbnail made with thumbnail makers such as Canva, Crello, Picmaker, etc.
On your customized thumbnails, you can include a headline and a compelling image to make it more clickable. Here are some videos that have simple yet catchy customized thumbnails on YouTube: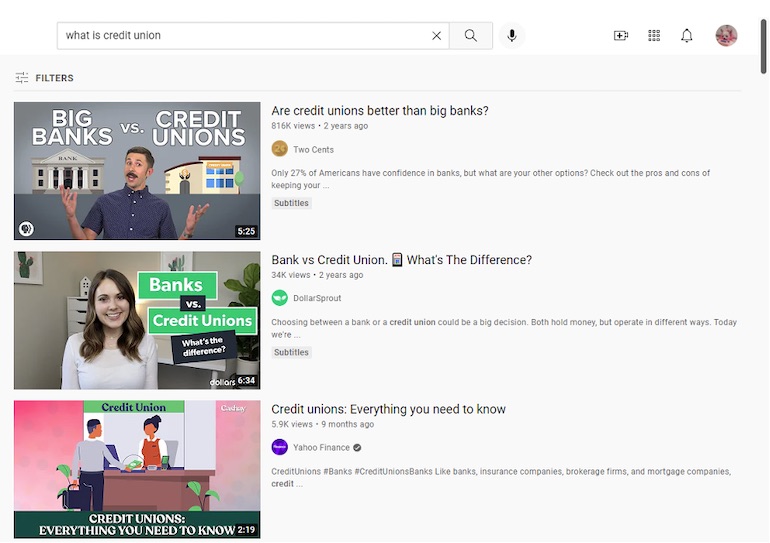 4. Add Subtitles and Closed Captions
Adding subtitles or closed captions to your videos helps increase searchability by highlighting important keywords—plus it makes your content more accessible.
These subtitles may be in the language of your target audience, or you can use generated universal subtitles that are readable by everyone across different regions and countries.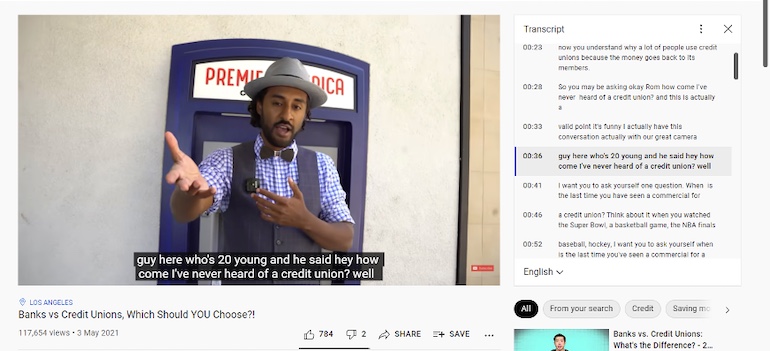 You should keep closed captions enabled on all your videos, as 50% of viewers watch videos without sound. Closed captions (CC) help viewers that are deaf or hard of hearing, those who only want to read your content, or people who aren't native speakers, so they can understand the content.
5. Optimize the Description
Video-sharing platforms like YouTube and Vimeo allow you to write a description of your video and tell users what the content is about. Your video description is another factor that will influence your video's SEO ranking. The description should include the keyword(s) you put in the title and the video filename. You can incorporate some natural link-building strategies in your video descriptions as well by including links to your credit union's website or relevant pages.
However, the video description should be written in such a way that it doesn't look spammy—avoid using any keyword more than once.
Final Thoughts: Revamp Your CU Marketing With Videos
Today's savvy credit union marketing managers know that video is not only popular among members but can also support engagement and retention, showcase brand personality, and inform potential new members.
That said, optimizing video is key for better search engine ranking. When you get a better rank on SERPs, your potential members will more easily find you, interact with your CU brand and convert into loyal members.
Andre Oentoro is the founder of Breadnbeyond, an award-winning explainer video company. He helps businesses increase conversion rates, close more sales and get positive ROI from explainer videos (in that order).